One of Turkey's top-performing money managers says his peer-beating returns are down to homing in on the best-run companies, paying close attention to everything management says — and joining customers in the stores run by the retailers in his portfolios.
Ata Portfoy Yonetimi AS's equity intensive fund has returned 38 percent in the past 12 months, compared with a gain of 26 percent for the benchmark Borsa Istanbul 100 Index. That ranks third among 61 local funds investing domestically and first among actively managed portfolios, according to the country's Electronic Fund Distribution Platform.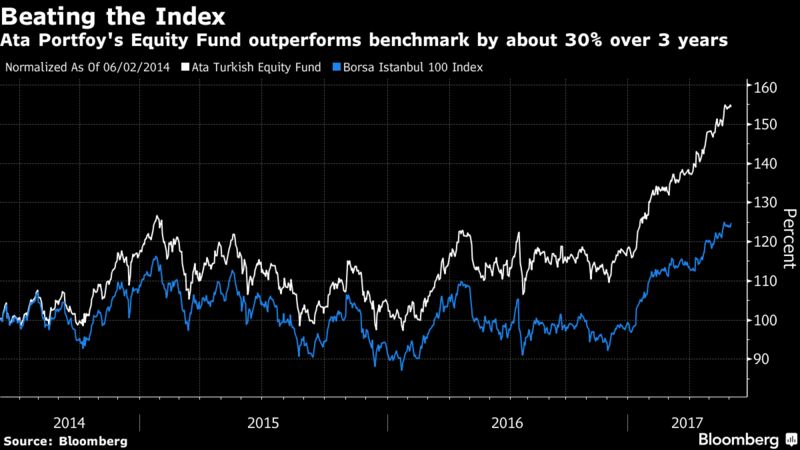 "We ask ourselves two questions: Is it fundamentally attractive and is the corporate governance good?" Mehmet Gerz, chief investment officer of Ata Portfoy, said in an interview in Istanbul. "I personally follow all the comments, meetings by the big shareholders, meet the management, as well as make customer-like visits to the stores if it is a retailer. Because, as a minority shareholder, there is not much that protects you."
Getting the balance right on banks is another key to equity fund performance, Gerz said. While lenders account for about 30 percent of Turkey's benchmark index, money managers who follow that lead may risk underperforming, because rising deposit rates may have a negative effect on bank earnings in coming quarters, he said. Gerz has moved to an underweight position in the sector, with the exception of his two top picks.
Here are some of Gerz's preferred stocks — and why he holds them:
Turkcell
Ata Portfoy bought Turkcell Iletisim Hizmetleri AS stock as it slumped following the share sale by largest investor Telia AB in the first week of May, seeing an opportunity to switch into Turkey's largest wireless carrier and out of banks. Turkcell, up 25 percent this year, now has the biggest weighting in Ata Portfoy's equity fund.
Garanti and Isbank
While Turkish banks reported increased profits in the first quarter, Gerz cares more about their ability to distribute those earnings in cash. "I believe in dividends," he said. Gerz only holds Turkiye Garanti Bankasi AS and Turkiye Is Bankasi because they boast the highest dividend yields. His Isbank positions, in particular, have made a strong contribution to fund performance in the past two years, he said. Garanti has advanced 25 percent in 2017, Isbank 36 percent.
Koc Holding
The companies in the Koc Holding AS portfolio are all attractive in their own right, said Gerz, who added more shares in the conglomerate as they slumped following a $475 million share sale. The stock is up 17 percent this year.
Migros
Migros Ticaret AS is experiencing a turnaround since Anadolu Group's acquisition of the retailer. "The improvement I see is not only reports, numbers — I can see it when I go to the stores, and I believe it will be managed in a more financially prudent way under Anadolu Group," said Gerz. Migros has the largest weighting among retailers in Ata Portfoy's equity fund. "If I were a Kipa investor, I'd switch to Migros shares and keep them for at least five years," Gerz said, referring to Migros's acquisition of Tesco Kipa this year. Migros is up 50 percent in 2017, Tesco Kipa 31 percent.
Yazicilar Holding
This was a neglected stock with hidden value, said Gerz, who expects the company's name to change to Anadolu Endustri Holding after the combination of group companies in February simplified the group's structure. The merger is an important step toward transforming the holding company into more of an operating one, like its peers Koc and Haci Omer Sabanci Holding AS, he said. That's why the discount on Yazicilar is narrowing — it has jumped 40 percent since the merger, taking year-to-date gains to 72 percent.
Coca Cola Icecek
This is a "turnaround story" after three years of struggling with foreign-currency debt and souring soft drink markets abroad. "The recovery begins after the dip and that's the time you need to be buying," said Gerz, who expects a strong contribution to equity fund performance from his increased holding in a stock that's up 13 percent this year.